Staffordshire doctor's 'sexual touching' was misconduct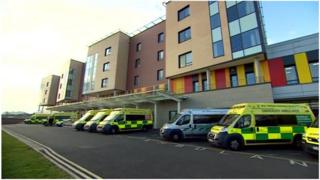 A doctor who inappropriately touched two midwives while on duty has been found guilty of misconduct.
Dr Mohamed Abdelrahim Elkhider was working as a registrar in the maternity unit of Stoke's City Hospital - now the Royal Stoke - when the incidents occurred, between 2012 and 2013.
Dr Elkhider denied the allegations at a Medical Practitioners' Tribunal.
But the hearing in Manchester found his attentions were unsolicited and sexually motivated.
'More than one wife'
The tribunal heard the two midwives had complained to the University of North Staffordshire NHS Trust about Dr Elkhider.
He was said, on separate occasions, to have touched one of the women on the thigh in an office, tried to massage her neck and asked her for her phone number.
Panel chair David Kyle said Dr Elkhider had also made comments to the midwife about Muslims "being allowed to have more than one wife".
Mr Kyle said: "The panel is satisfied you made the requests... in an attempt to establish an intimate relationship with her."
Although Dr Elkhider admitted to asking the midwife for her number, he denied he had wanted to meet her away from the workplace.
However, Mr Kyle said he found Dr Elkhider's explanations as to why he asked for the number "implausible".
'Nuzzled her neck'
A second midwife said Dr Elkhider had nuzzled her neck and pressed his body up against hers.
Nicholas de la Poer, representing the GMC, said the women were "shocked and embarrassed" by the doctor's conduct.
The panel found the allegations amounted to misconduct.
Mr Kyle said: "The panel determined your behaviour towards Midwife A and Midwife B breached the standards and ethics expected of a doctor.
"You crossed the boundaries of acceptable behaviour on several occasions."
He added Dr Elkhider had "begun to take steps towards remediation" but said his fitness to practise was impaired.
The panel said it would consider what sanction to impose on his registration.