Capodimonte ornaments stolen in Little Aston raid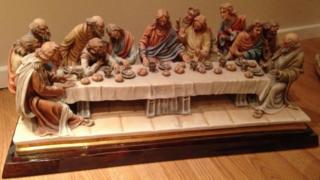 A collection of rare ornaments worth up to £100,000 have been stolen in a burglary.
The haul from Little Aston, near Sutton Coldfield, featured pieces by Italian porcelain manufacturers Capodimonte including the Resurrection of Christ, worth £12,000 and the Last Supper valued, at £6,000.
The burglary happened between Thursday 10 March and Saturday 12 March.
Police have launched a nationwide appeal to trace them.
More on the stolen Capodimonte ornaments
Also taken were The Cheats by Bruno Merli valued at £1,000, and two coach and horses figurines worth £5,000,
Det Con Jamie Harris, from Staffordshire Police, urged people to look out for any Capodimonte items being offered for sale under suspicious circumstances.
"Some of these collectables are very rare and are worth a lot of money so we are understandably keen to reunite them with their rightful owner," Det Con Harris said.
"It is highly likely they will be offered for sale out of Staffordshire and we want to issue a nationwide appeal to dealers of antiques and collectables to keep an eye out."