'Metre deep' pothole closes road in Stoke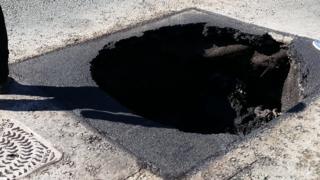 A road has been closed after a pothole measuring "a metre deep" opened up in a carriageway.
Keelings Road in Stoke-on-Trent was sealed off by Staffordshire Police at about 15:00 BST.
The city council said the cause of the hole is being investigated by the Highways Agency and Severn Trent. It tweeted the cavity was a "metre deep".
The only route affected is access to the car park at Northwood Stadium, which can be reached via Cromer Road.
Mark McRostie, who saw the pothole, claimed it happened in a part of the road where repairs were being made earlier.