Tornado 'likely' behind damage in Wolstanton, Staffordshire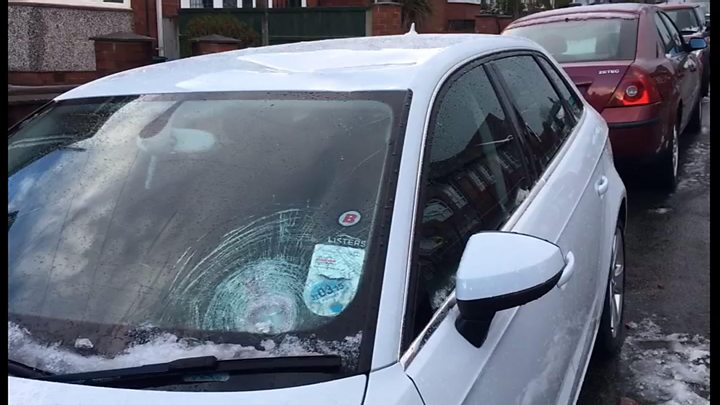 Tiles blew off a school roof, houses were damaged and cars were smashed with debris during what forecaster say was "likely" to have been a tornado.
The damage took place in Wolstanton, near Newcastle-under-Lyme in Staffordshire, on Tuesday evening.
The Met Office said it was "very likely" caused by a tornado but equally could have "simply been caused by high winds".
One villager's garden wall was blown down.
More on this and other Staffordshire stories
Resident Mary Clewes said: "I just heard the noise thinking it was my roof. I came out and all the large blocks were along the patio."
Paul Newton, caretaker at Ellison Primary School, said: "We were walking up the street and a wall collapsed in front of us.
"There was a great roar of wind and next thing I started seeing a tornado forming," he added.
A Met Office spokesperson said: "I can't confirm or deny they were definitely tornados, but the set-up would definitely have allowed for it.
"I'm pretty confident that there were funnel clouds in the area and we've heard reports that some of these reached the ground, which would make them tornados."
Meteorologist Paul Michaelwaite, from Net Weather, warned that similar conditions on Wednesday meant funnel clouds could form again and possibly lead to tornadoes.