Inaugural Staffordshire Day takes marks 1,000 years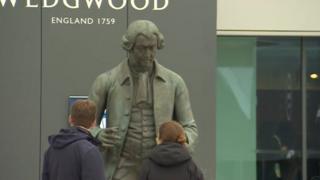 The first Staffordshire Day has taken place to mark 1,000 years since the county was first mentioned in the Anglo-Saxon Chronicle.
More than 50 community and arts events have been held.
Members of the public chose 1 May for the initiative to coincide with the day the first Wedgwood pottery factory opened in 1759.
A musical celebration of Stoke-on-Trent at Stoke Minster included an on-screen message from pop star Robbie Williams.
The singer said: "I hear that it's Staffordshire Day. Well that's just not long enough - 24 hours only for the place that I call home."
Tourist attraction World of Wedgwood celebrated the best of local produce with its 'Staffordshire Day food festival'.
The National Brewery Centre and the National Forest Adventure Farm were among sites organising events and offering discounts on the day.
The 'A Day at the Lake' event at Rudyard Lake near Leek promoted the site as it was in the late 19th Century, a cultural destination for thousands of day trippers taking in the outdoor arts of the age.
A recreation of a tightrope walk was among attractions organised there.
The Museum of Cannock Chase celebrated the county's history, with arts and crafts on a Staffordshire theme and music and dance reflecting the area.
Grants of up to £1,000 were available to local groups through the Staffordshire Community Arts Fund to put on arts activities.
Mark Winnington, cabinet member for economy at Staffordshire County Council, had said the day would be "a great way of sharing... pride" in the county, promoting "all things great".
The Anglo-Saxon Chronicle was a year-by-year account of major events of the time.