Man dies after jumping into Burton river to 'cool off'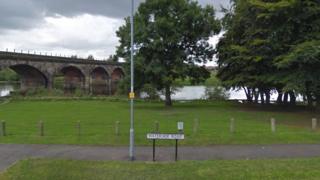 A man has died after reportedly jumping into a river in Staffordshire "to cool off" in hot weather.
The 46-year-old was pulled from the water by emergency services at Waterside Road, Burton-upon-Trent, on Monday night.
He was treated by paramedics but later died in hospital, said Staffordshire Police.
Ch Insp Steve Maskrey said: "Tragically, this incident proves just how dangerous open water can be."
He added: "Although it may seem fun at the time, the public need to be aware that swimming in open water brings many dangers including the risk of drowning, catching diseases and hypothermia."
The police force initially said the man had been pulled from a canal, but later confirmed it was the River Trent.