V Festival: More than 200 treated for injuries on first day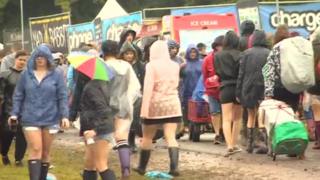 More than 200 people were treated for injuries in the first 24-hours of the V Festival at Weston Park in Staffordshire.
West Midlands Ambulance Service said the figure was a slight increase on previous years after a Radio 1 Summer of Dance stage got the event under way on Friday.
It said majority of injuries were sustained due to "intoxication".
The V Festival is celebrating its 21st birthday this year.
It is held simultaneously at Weston Park and Hylands Park in Chelmsford, with live acts taking to the stage at one venue on Saturday and the other venue on Sunday.
Paramedics said weekend rain could further add to the risk of injury as up to 90,000 revellers gather to see acts including Justin Bieber and Rihanna.
Several arrests were also made for drug offences during the first of the three-day festival but Supt Elliot Sharrard-Williams, from Staffordshire Police, said: "Pleasingly, we've had lots of psychoactive drugs in surrender bins, which I think is a good thing".
V Festival is the biggest annual music festival in the West Midlands. Sunday is believed to be the busiest day, with visitors told to expect traffic delays around the site.