Plea over missing 1986 Sir Antony Gormley sculpture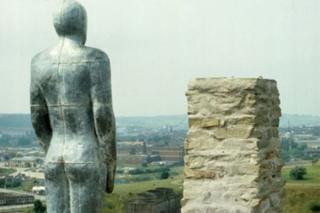 An appeal has been made to find a life-sized sculpture by Sir Antony Gormley which has been missing for 30 years.
The artist created the public art as part of the National Garden Festival at Stoke-on-Trent, Historic England said.
It added that the figure of a man, called A View, A Place, overlooked the Fowlea Valley but it was removed when the festival closed in 1986.
Historic England has compiled a list of works that have been lost, sold, stolen or destroyed.
Read more news for Staffordshire
The organisation, which protects England's historic places, has appealed for information of its whereabouts.
Historian and author Fred Hughes said its disappearance was "just one of those mysteries of life".
He said as far as the festival was concerned, the figure was "one of the many" pieces of public art.
"To see that art put out into our streets, it was a great leap forward as far as art appreciation was concerned," he added.
"We don't know where it went. Where do you put one of those? In your back garden?"
The lead, fibreglass and plaster statue was placed at the festival's highest point looking out over the Fowlea Valley, Art UK said.
Head of research at website Art UK, Katey Goodwin, said: "Apparently, after the festival had closed, a dispute ensued between the artist and the council."
But she said she did not know whether that had anything to do with its disappearance.
Stoke-on-Trent councillor Terry Follows said: "Unfortunately, a lot of the council workers who helped to make the Garden Festival a huge national success in 1986 are no longer at the authority.
"Records of this wonderful statue do not exist. We encourage people to support Historic England in getting in touch with them if they have any information about it."