Was fining the homeless in Stoke-on-Trent a 'mad' idea?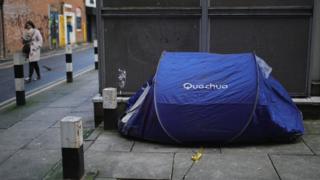 A council has come under fire for considering fining people £1,000 for sleeping in tents. Was it simply a gimmick aimed at making the authorities appear tough? And what does it say about our attitude to the homeless?
"Threatening people with fines is just mad. If it wasn't serious it would be laughable."
Will Morris is damning in his analysis of draft proposals by Stoke-on-Trent Council to tackle a raft of anti-social behaviour issues in the centre of Hanley, one of six towns that make up the city.
The director of homeless support charity House of Bread went on to describe the authority's plan - which included fining anyone found "assembling, erecting, occupying or using" a tent in an unauthorised area £1,000 - as a "farce".
Though that element has since been withdrawn by the council - which apologised and said "we got it wrong" - it reflects the authority's "unfeeling" response to the city's homeless problem, Mr Morris said.
"It seems like a crass way of dealing with it. Where's the £1,000 going to come from?
"It's not a logical reaction, it's an overreaction. It says a lot about the unfeelingness of people."
It's not the first time methods to target homelessness have been criticised.
Earlier this year there was a backlash after "anti-homeless" metal spikes were installed outside a building in Manchester.
In York, the city council faced a backlash in 2015 when 5,400 people signed a petition backing the removal of bars on benches amid claims they too were "anti-homeless".
Stoke-on-Trent's council is just the latest to face accusations that rather than tackle the root of the problem, the measures would simply punish those who found themselves living on the streets.
"Fining or in any way criminalising people simply because they are homeless is wrong," said Matt Downie, director of policy and external affairs at homelessness charity, Crisis.
"We understand that councils have to strike a balance between the concerns of local residents and the needs of rough sleepers, and where there's genuine anti-social activity, it's only right that they should intervene.
"Yet people deserve better than to be treated as criminals simply because they have nowhere to live."
Polly Neate, chief executive officer at Shelter, said people should be given access to proper support and advice to find suitable accommodation to get off the streets.
"The solution to rough sleeping isn't to penalise desperate people," she added.
Some charities and campaign groups have previously encouraged donations of tents, noting a rise in homeless people using them across the UK.
In Stoke-on-Trent, however, government figures estimate there are just 17 rough sleepers. In light of the statistics, was the proposal to bring in fines proportionate to the scale of the problem?
Glyn Jackson, who runs Help for the Homeless in the city with his wife Jeanette, thinks not.
He disputes the official homeless figures - "we see over 50 people on a busy night" - and said few of those used tents.
Ian Brayshaw, from the Hanley One Residents Association, agreed that the issue of tents had not been raised as a particular concern and he had only known of two being used in the area in the last two years.
The public space protection order is still under consultation and proposes banning:
Drinking alcohol - other than in the grounds of a licensed premises
Persistent or aggressive begging
The use of a public toilet other than to use the facilities for the reasons for which they were intended
However, the council said it had received increasing complaints from business, residents and visitors about the issue.
It said it was looking at a "preventative approach" to anti-social behaviour and the plans are still under consultation.
Councillor Randy Conteh, cabinet member for housing, communities and safer city, said: "I'd like to stress that we have never fined anyone for being homeless.
"Our consultation was only ever just that, an opportunity for people to feedback their views on a number of proposals.
"We have listened to the strength of response and will no longer be including the proposal to fine someone for erecting a tent within the public space protection order area in the city centre. This option should not have been included and we apologise for any distress this has caused."
Stoke-on-Trent is not the first place to raise the issue of "tent communities", with bans already in place in Brighton and Hove, Sunderland, Brent and Luton.
Last year, homeless protesters in a "tent city" were evicted by Hull City Council, while in Manchester, the council won an injunction against the pitching of tents and several camps have been moved on.
In Stafford, House of Bread was told to stop donating tents to rough sleepers over fears a "tent community" was leading to a rise in drinking and drug abuse complaints.
Mr Morris believes the problem with tents is it makes "the invisible visible" and the GMB union fears approving the order will simply move the issue to other parts of the city.
Mr Downie believes enforcement should only be used as a last resort.
"If it is used against a rough sleeper for genuinely antisocial behaviour then councils must make sure it is accompanied by accessible, meaningful support and accommodation to help that person escape the streets and rebuild their life.
"Without that support, they risk further marginalising rough sleepers and making it even harder for them to get help."
Additional reporting by Lisa Wright