Sir Stanley Matthews' African 'throne' sold for £850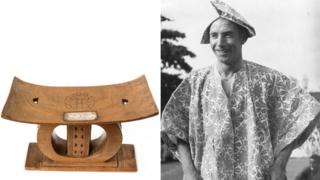 A wooden "throne" presented to one of England's most famous footballers has been sold for £850 at an auction.
Sir Stanley Matthews was ceremonially named the "King of Ghana" and presented with the throne while visiting the country in 1956.
Then newly crowned the first European Player of the Year, Sir Stanley played a series of exhibition matches to celebrate the country's independence.
An England cap awarded to him sold for £3,000 at the auction in Derbyshire.
Born in Hanley, Stoke-on-Trent, Sir Stanley gained legendary status with Stoke City and Blackpool, playing almost 700 games for them, and won 54 England caps before retiring in 1965, aged 50.
His daughter, Jean Matthews-Gough, 78, decided to sell off items at Hansons Auctioneers in Etwall earlier.
But the cap, for his final international appearance at the age of 42 in a game against Denmark in 1957, came from another vendor.
'Same bracket as Ronaldo'
Auctioneer Charles Hanson said: "To the football purist there's still so much passion and romance behind Sir Stanley Matthews's story, from the Matthews Final to the way he looked after himself and never drank alcohol.
"If he was playing today he would be in the same bracket as Ronaldo, he really was that good."
He was mobbed on arrival in Ghana and more than 80,000 turned up to watch his first three matches.
During his visit he was named a "soccer chief" and ceremonially crowned.
Mrs Matthews-Gough said items were "gathering dust in drawers and cupboards".
She said: "Pop was not one for memorabilia. He never lived in the past - he was all for the future. He got his happiness from people, not from things. I am sure he would have approved."
A bronze bust of England's World Cup-winning goalkeeper Gordon Banks also sold for £1,800 at the auction.