Staffordshire social worker suspended over comments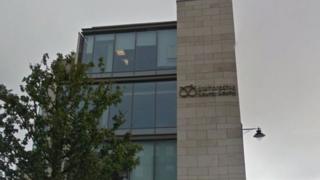 A social worker who was found to have made inappropriate comments about a client has been suspended for a year.
Gawain Minney was an agency social worker for Staffordshire County Council when he said he could hit a client "with a sledgehammer".
He also threatened a colleague in the council's coffee shop.
The agency who employed Mr Minney said his behaviour was "a violation of trust" and the council described it as "below standard".
The council confirmed it had referred him to the Health and Care Professions Tribunal Service .
Mr Minney's conduct and competence was reviewed by a committee on 3 and 4 January this year.
'Isolated incidents'
The committee heard how the agency worker had said at a meeting in August 2016 that another way to deal with a client with learning disabilities would be to "chuck her in a padded room".
It said the social worker also behaved in "a threatening, violent and/or aggressive manner towards a colleague", raising his elbow to their face and threatening them.
The hearing found that Mr Minney's actions constituted misconduct and that his "fitness to practise is impaired".
Mr Minney, who had been a social worker for 17 years, worked for the council through an agency from April 2016 until August 2016.
The panel said in its findings that it recognised Mr Minney had apologised following the first incident and had been engaged during the hearing process.
It said that the instances were "isolated incidents within the context of an otherwise unblemished career".
Agency Liquid Personnel, who employed Mr Minney, said they stopped working with him immediately.