Eight charged over Birmingham shisha stabbing clash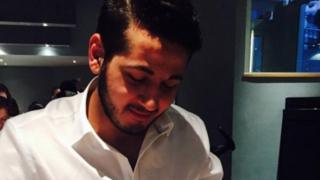 Eight people have been charged in relation to a violent clash outside a shisha lounge that led to the death of a man.
Ibrahim Ismail, 23, suffered stab wounds to his heart in December 2016.
Seven men, aged 19 to 32, and a 32-year-old woman have been charged with violent disorder and conspiracy to commit wounding, West Midlands Police said.
The eight will appear at Birmingham Magistrates' Court on 14 February.
Mr Ismail was found fatally stabbed outside the Raxo shisha lounge on Moseley Street, Digbeth, Birmingham.
Mr Ismail, originally from Syria, had been living in Birmingham and studying in Solihull.
He had been working at a number of shisha lounges in the area at the time of his death.
The eight people charged are:
Shabaz Kamal, 24, of Westminster Crescent, Handsworth, Birmingham
Rebaz Kamal, 32, of Westminster Crescent, Handsworth
Abdullah Alshameri, 21, of Churchill Road, Handsworth
Andam Rasol, 24, of Queens Head Road, Handsworth
Awaas Aftab, 23, of Hobs Moat Road, Solihull
Tabean Abdullah, 19, of Beech Avenue, Stoney Lane, Birmingham
Adam Ijaz, 24, of Burnham Road, Great Barr, Birmingham
Shabana Bibi, 32, of Station Road, Witton, Birmingham
Rebaz Kamal, Mr Aftab and Mr Abdullah are additionally charged with possessing offensive weapons.
Ms Bibi also faces two counts of assisting an offender, while Mr Ijaz faces an extra charge of perverting the course of justice.
Another man, aged 24, failed to answer police bail and is being sought by officers.