Daniel Alston jailed for killing friend in 'play fight'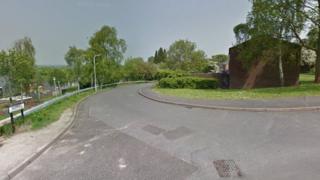 A man has been jailed for 12 years for stabbing his friend nine times in a play fight that got out of control.
Daniel Alston had gone out drinking with the victim Daniel Wyatt in Tamworth, Staffordshire, before going to Mr Wyatt's flat.
Mr Wyatt was found lying injured in a road by his flat last September.
Alston, 30, who claimed he acted in self-defence, denied murder but was convicted of manslaughter at Stafford Crown Court.
After drinking together they went back to Mr Wyatt's flat, Staffordshire Police said.
They began play fighting which escalated into serious violence, with Mr Wyatt being repeatedly stabbed in the stomach and back.
He was taken to hospital where he later died from his injuries.
Midlands Live: Hunt for stolen jewellery after pensioner killed in 'vicious' attack; More than 1,300 workers now redundant after Carillion collapse
Alston, who had worked with Mr Wyatt at a warehouse, was arrested after one of his relatives contacted police to say he was responsible.
He admitted using a small kitchen knife from the flat to stab Mr Wyatt who had charged at him swinging a plank of wood.
Alston stated he had taken the knife with him following the incident and disposed of it.
Following a search, police recovered what was believed to be the knife used in the attack from an area near to an underpass.
Mr Wyatt's flat keys were also recovered in an area of grassland nearby.
Det Insp Victoria Downing said: "This is a tragic case where a man has lost his life.
"Daniel Wyatt's injuries were severe and, as the prosecution stated, they were not consistent with self-defence.
"We're pleased that Daniel Alston has been found guilty, but our thoughts are with Mr Wyatt's family and friends at this difficult time."