Cannock man jailed for attack on nephew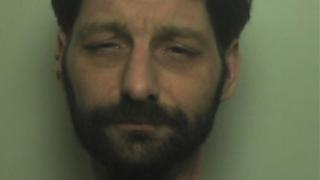 A man who caused 'life-changing injuries' when he stabbed his nephew has been jailed for 12 years.
Gearing repeatedly stabbed the 24-year-old, leaving him with a loss of movement in his arm.
Robert Gearing 39, admitted wounding with intent to cause grievous bodily harm after the attack on Craig Pitts in Danby Drive, Cannock, in September last year.
He was sentenced at Stafford Crown Court on Friday.
Mr Pitts had been at Gearing's house to help him clean it.
Staffordshire Police said Gearing had been drinking alcohol and became abusive.
Mr Pitts locked himself in a bathroom to make a phone call, when Gearing began 'smashing' his bungalow, before attacking his nephew, the force said.
Officers called to the scene found Mr Pitts lying on the floor with extensive wounds to his stomach and, after arresting Gearing, seized a blue-handled knife with blood on the blade.
Staffordshire Police said the victim suffered life-changing injuries as a result of the wounding and is still receiving hospital treatment.
Chief Insp Sarah Wainwright said: "This was a very distressing incident for the family and local community and we're glad that Robert Gearing has now been sentenced for his actions.
"Although Mr Pitts suffered terrible injuries it was the speedy response from police officers and colleagues in the ambulance service that may well have saved his life."