Stafford fireworks factory fire: Unit 'was rammed'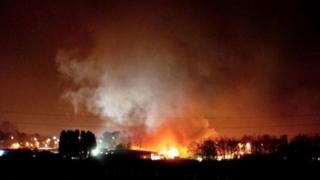 A fireworks factory owner told paramedics at the scene of a blaze that killed two men it was "rammed" with explosives and he would "go to prison" for the fire, a court heard.
Simon Hillier and Stewart Staples died in the blaze at SP Fireworks in Baswich, Stafford, on 30 October 2014.
Richard Pearson, 44, denies two charges of gross negligence manslaughter.
Stafford Crown Court heard numbers of fireworks stored at the unit were "up to 10 times the permitted limit".
Worker Mr Hillier, 41, and customer Mr Staples, 57, both from Hednesford, Staffordshire, died from inhaling combustible products after the fire engulfed the industrial unit.
The dead men were not found by emergency services until the day after because the roof of the unit collapsed.
The jury heard company director Mr Pearson, of Rowley Park in Stafford, was badly injured in the incident and was not interviewed by police until months after the blaze.
Prosecutor Allan Compton said: "His comments to paramedics treating him included stating that the premises was 'rammed with explosives' and that he 'would go to prison' for what had happened."
The prosecution alleges the quantity and nature of fireworks in the unit "should not have been stored in the premises at all" because of the adjoining buildings.
Mr Compton said that because of his "experience" with fireworks, Mr Pearson would have understood the dangers.
He added Mr Hillier and Mr Staples would probably have survived the initial ignition but not the series of explosions that followed.
Mr Compton claimed the "severity and extent" of the explosions showed the amount of fireworks stored at the unit was "potentially up to 10 times the permitted limit".
The trial continues.