Suffolk tourism chief's oil spill fears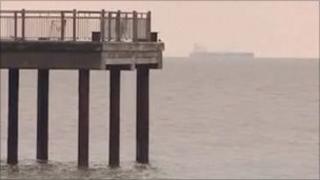 A tourism chief in Suffolk has warned that allowing oil transfers from ships to tankers off England's coast poses a serious threat to beaches and business.
Tim Passmore, chief executive of Choose Suffolk, said he had concerns over the practice and the potential hazards.
He said: "We do not need this kind of hazard with the tourist industry worth £1.25bn to Suffolk and struggling."
The government said new rules soon to be finalised would ensure the activities were strictly monitored.
"We've got to stop this nonsense because it could have a disastrous effect on all sorts of business and people's livelihoods," Mr Passmore said.
"From our perspective at Choose Suffolk it would be a catastrophe if we ended up with a huge oil spill.
Listen to concerns
"That would affect the whole East Anglian coast but especially the important resorts of Lowestoft and Southwold which would be devastated."
The government is consulting on new regulations for transfers.
Shipping minister Mike Penning said: "Ship-to-ship transfer operations have been common in UK waters for many years with a generally excellent safety record.
"Since my appointment I have been left in no doubt that this issue is of huge importance, both to local communities and to the industry.
"That is why I have taken time to listen to their concerns before deciding a way forward.
"These new regulations aim to strike a balance between supporting those who benefit from such operations and ensuring they are properly monitored and regulated."