Last chance for views on Ipswich incinerator plans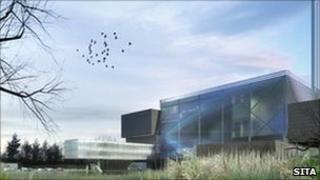 Plans for a £185m waste incinerator in Suffolk which would burn 269,000 tonnes of rubbish every year are being shown to residents by a parish council.
People living near the proposed site at Lodge Lane, Great Blakenham, near Ipswich, are being asked their views by Claydon and Whitton parish council.
Representatives from Sita UK, which wants to build the plant, will also be at Claydon and Barham community centre.
The plans have been subject to two separate public consultations.
One has finished and was organised by the Environment Agency which must now make a decision on whether to grant a permit for the energy-from-waste incinerator.
The other consultation, being run by Suffolk County Council, ends on Wednesday but it said it was happy to take late comments.
The council's development control committee will then consider a planning application by Sita for the plant on 21 July.
Sita said it would create more than 40 jobs and generate enough electricity to power 30,000 homes.
The firm hopes to open the plant by late 2014.