Ladder breakdown blamed for church blaze destruction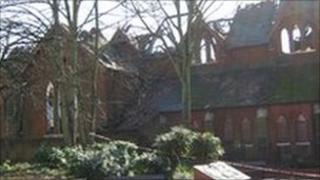 Firefighters have claimed not enough resources were available to them to tackle a blaze in a derelict Ipswich church.
A turntable ladder to allow water to be applied from above the fire broke down when it was sent to St Michael's Church on Upper Orwell Street on Monday night.
The Bury St Edmunds ladder was out of action for maintenance so crews attended from Colchester and Chelmsford, the Fire Brigades Union said.
Suffolk fire service said it was normal practice to call on other brigades.
Suffolk County Council is planning to remove the dedicated crew for the Ipswich turntable ladder in this year's integrated risk management plan for the fire service.
Andy Vingoe, chairman of the Fire Brigades Union in Suffolk, said this concerned him greatly.
He also blamed the breakdown and unavailability of a back-up appliance for firefighters not being able to do enough to save the church.
"Not many years ago we were told there must be one permanently crewed aerial appliance in Suffolk at all times.
"This has now changed and the new arrangements must be based on finance."
'Sensible package'
Phil Emburey from Suffolk fire service said the union was opposing cuts across the board and the real issue was the loss of 12 posts at Colchester Road fire station in Ipswich.
"It was unfortunate the turntable ladder broke down at the fire scene and the other was being maintained but we were able to call on appliances from Colchester and later from Chelmsford.
"Aerial appliances like these are expensive and take time to set up so are used infrequently.
"They are also old so we are replacing them over the next few months.
"We have outlined a sensible package of cuts as we are obliged to do in present circumstances," he added.