Suffolk painting find sells for £82,000 in Australia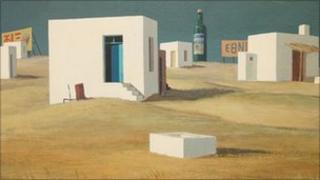 A small oil painting originally bought for £65 in 1964 and discovered in a Suffolk village has been sold for $132,000 (£82,000) in Australia.
Bonhams Auctioneers said the picture was typical of its Australian artist Frank Jeffrey Edson Smart.
Called Athenian Suburb, it was found at a rural cottage near Bury St Edmunds.
Smart is said to have often visited East Anglia and his trademark style covered environments like airports, factories and petrol stations.
The work was spotted by picture specialist Daniel Wright from auction house Bonhams.
They took the painting to Australia to sell because Smart is one of that country's foremost living artists.
He trained at the South Australian School of Art and Crafts before a brief spell as an art teacher.
By 1964 when he sold the painting his reputation was growing and Italy had become his permanent home.
He met and became good friends with Desmond Gregory, an English academic and art collector, who bought the painting.