Ipswich Hospital appeals for return of baby monitors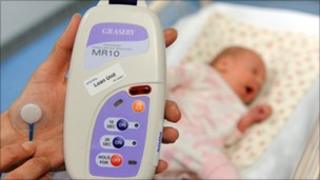 Nurses at a Suffolk hospital are appealing for the return of 20 monitors used to observe babies with breathing difficulties.
Staff at Ipswich Hospital have launched an amnesty asking for the return of apnoea monitors loaned to parents.
The unit has been left short of supplies of this vital equipment and has recently bought five new units.
These have already gone out on loan to babies in need and nurses have now introduced a tighter system of control.
Nurse Karen Clarke said: "Even if the amnesty results in the return of one monitor it will be a success.
"I suspect most of them are sitting in the back of cupboards long since forgotten about."
A box for the returned monitors has been put in the main reception on the ground floor of the maternity block at the hospital.