Ipswich church fire costs Jimas £200k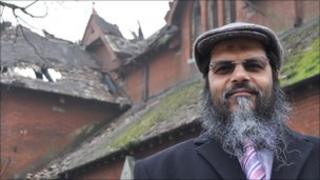 A Muslim group which aims to turn a former Ipswich church into a community centre has said a recent fire is going to increase the cost by £200,000.
The roof of St Michael's Church, Upper Orwell Street was destroyed on 7 March.
Islamic group Jimas said the cost of its project had now risen from an estimated £300,000 to £500,000.
Manwar Ali, Jimas chief executive, said: "Any money we raise in the near future will all go into reconstructing the roof."
The charity, which bought the building from Ipswich Borough Council for £375,000, said it would raise the money privately rather than seeking public funding.
Mr Ali said it could take up to three years before it opened as a community centre.
'Self-reliant'
"As people who are trying very hard to carve out a 'British Islam', we need to show and become an example of how to be self-reliant and engage with the community," said Mr Ali.
"We actually become quite critical when any ethnic group, let alone Muslims, start taking money from councils for cohesion projects or money for restoring heritage buildings."
Bob Kindred, conservation manager at Ipswich Borough Council, said the building could be saved.
He said: "I'm optimistic. The external brickwork seems to have stood up to it pretty well and the lower aisle roofs survived fairly well.
"The important thing is to make sure the building is stabilised so that it doesn't suffer any more damage from high winds."
Jimas, which also runs the Origo internet cafe on the same road, had not insured the church.
Mr Ali said: "Twelve years it laid derelict and we never thought somebody would set fire to a church, but pranksters are there and [that is] what happens to many churches around the country."