Marina Theatre trust takes over Lowestoft venue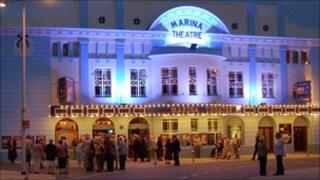 Managers and supporters of the Marina Theatre, Lowestoft have taken over the running of the venue in a 15-year deal.
As part of its savings drive, Waveney District Council voted to hand over the management of the building to a not-for-profit organisation.
The council still owns the building and will continue to subsidise it with £150,000-a-year for four years.
Martin Halliday, theatre manager, said he was "delighted" a solution had been found.
The new partnership of management, staff and volunteers from the Friends of the Marina Theatre will now form a charitable trust.
Peter Wilson, chairman of the Friends, said: "We've got an awful lot of work in front of us, but with the enthusiasm that's been shown, it's got to work.
"Hopefully in the future we will be able to give everybody something they would like and encourage more community and local amateur groups to use the theatre."
'Big society'
The Conservative-run council said it had been spending about £220,000-a-year on the Marina, so it would save £70,000-a-year.
The Royal Philharmonic Orchestra has been in residence at the Marina since 2005.
Councillor Stephen Ardley, portfolio holder for healthy communities, said the move is an example of the government's "Big Society" idea with "local people coming forward" to run the venue.
"Over the past couple of months we've been bombarded with people that want to keep the theatre, so I think it's a very good thing that we've done," he said.
"There's certain things that they can put in place as a trust - arts grants, lottery funding, levies on ticket prices - which we couldn't do as a civic council."
Mr Halliday said: "Since news of our bid was made public, we have received numerous offers of support, but in the short term I would ask the public to assist us in the best way possible - buy tickets."