E-fit released after sex attack in Ipswich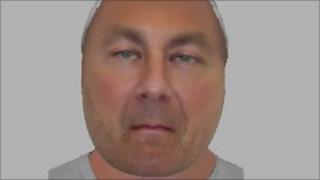 An e-fit likeness of a man police in Suffolk want to talk to in connection with a sexual assault has been released.
A 23-year-old woman was attacked in the early hours of 26 March in Great Colman Street, Ipswich.
The man pinned the woman against a wall and touched her inappropriately. The victim kneed the man between the legs and escaped towards a taxi rank.
The man is described as white, in his 50s and about 5ft 8in (1.73m) tall.
He had green eyes and thinning grey hair.
He had a dark-coloured tattoo on the side of his neck and was wearing a blue denim jacket with the sleeves rolled up.
Anyone with information is asked to call Suffolk Police.