Suffolk Historic Churches Trust bike ride hire firms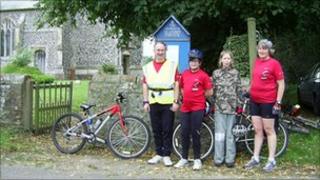 The organisers of a charity bike ride are looking for cycle hire firms to help them increase the number of people who spend a day visiting churches.
The Suffolk Historic Churches Trust (SHCT) holds an annual sponsored bike ride in aid of restoration projects.
The trust plans to list hire companies on its website.
Patrick Grieve, bike ride chairman, said: "If you haven't got a bike, you needn't worry because we hope you'll be able to find one through this list."
The 30th SHCT Sponsored Bike Ride will take place on Saturday 10 September.
The event raised £162,940 in 2010.
'Lycra-clad'
Mr Grieve said bike hire companies were often small operations without dedicated websites.
"We want to try and encourage bike hire companies to support us by putting up posters," he said.
"We also have a very good new website, so what we can do is list and mention the bicycle hire companies."
Cyclists can visit as many churches as they wish.
Volunteers are on hand to provide refreshments and to tick forms to prove the churches have been visited.
Mr Grieve added: "The Lycra-clad people on whizzy bikes will do a huge mileage, but for people like me who have a wicker basket, we'll do a dozen or 15 churches on a morning.
"The point of the ride is to visit Suffolk's medieval churches. Some are well known, some are down lanes and are hardly visited at all."