Forge Church goes shopping for families in Debenham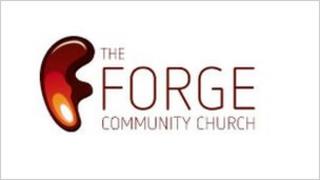 Members of a community church in Suffolk are heading straight to the shops after worship, buying food for local residents.
The Forge church in Debenham has been running the food bank for over a year.
Community worker Becky Green said: "We're really keen to impact and transform lives both within the church and within the community.
"After our services, instead of coffee and the normal chat, we're asking people to pick up a shopping list and head down to the Co-op.
"The aim is to then distribute that to families in our community."
The church holds two services at The Debenham Leisure Centre at 9.30am and 11.30am every Sunday morning.
On Sunday, 10 April, the 300 Forge regulars were asked to pick up a grocery shopping list, from £5 to £25 in value.
"About a year ago we set up a food bank for people who are struggling financially, just to get them through a tough time," said Becky.
"Someone in our church was working with young people and found that when they go through times of homelessness, their benefits get mucked up for whatever reason, and people were really struggling to buy basics such as food.
"We can't let that happen, we can't let people in our community worry about feeding their kids and going without."
Modern Poverty
Becky said poverty can be hidden.
"We came across a family recently, a woman was struggling to feed her four children and was feeding them porridge oats," she said.
"No one would have known about that, but she was working with a support worker who then got in touch with us.
"We work with local professionals such as social workers and health visitors, and they will contact us on behalf of the families they are working with to request food.
"It ensures these people are genuinely in need and helps us know where that need is."
Forge church Leader Duncan Banks said: "It's just rubbish that some people living on our doorstep can't afford the basics needed to live.
"It's not right and we are not going to stand by and ignore it.
"So we are turning the church inside out by stocking up our food bank ready to help people when they need it most."
Suffolk's Anglican churches could soon be used more to help support communities outside of regular services.
Marion Welham, church buildings and tourism officer for the Diocese of St Edmundsbury and Ipswich, organised the Crossing the Threshold conference in April.
"The idea behind it is to have a community development approach to the use of church buildings," she said.
"There's a church in every community, often at the very heart.
"It only seems right that with the closure of Post Offices and shops that this should be somewhere where you can have a social centre at least.
"We've got varying degrees of that happening, from using the vestry for a coffee morning to a full scale market with stalls like in All Saints in Thorndon."
The market, TPlus, is on every Tuesday from 10am to midday. Booking a stall costs £5.