Thousands celebrate royal wedding in Framlingham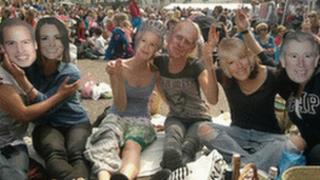 Thousands of people gathered on Framlingham's Market Hill to celebrate the royal wedding at one of Suffolk's largest community events.
They waved flags and sang hymns as they watched the ceremony unfold on a large TV screen set up especially for the occasion.
Shops and businesses, many with special royal wedding window displays, opened their doors for the event.
Organiser Bill Bulstrode said the celebrations had been a great success.
Mr Bulstrode, chairman of Framlingham Business Association, said: "We reckon we've got at least 3,000 people here today.
"It's been a fantastic day. The weather's been brilliant.
"We've still got a party going on. Everyone's come up to us saying, 'You've done a magnificent job. Thanks very much for what you're doing.'"
Flags and bunting
Among those attending was Jane Cole, of Kesgrave, near Ipswich, a drama teacher, who went with other members of the Eventful Friends social group.
"If I hadn't come I'd have just stayed at home doing their chores," she said.
"Five of us came along today and we've had a great time. We're all single people and we wanted to be part of a group, not at home on our own.
"We arrived at about 0930 and it was quite empty. Then families and children started to arrive and it was lovely.
"There were flags and bunting and people handing out cake. They gave out hymn sheets and we were all singing along, especially to Jerusalem.
"My favourite bits were William and Harry arriving and seeing Catherine Middleton's dress - that was incredibly moving."
Tracey Wilson, of Hadleigh, who runs Eventful Friends, said: "Everybody was really friendly and it was a very positive and happy day."