Chance to see hoard of Iceni gold coins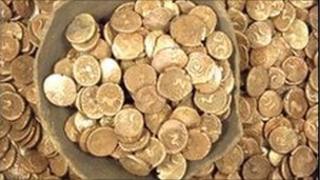 A hoard of Iron Age gold coins discovered in Suffolk go on display at Ipswich Museum.
The 840 embossed coins were buried 2,000 years ago by Iceni tribesmen, possibly as a gift to the gods.
The stash was found by a metal detector operator in a field near Wickham Market in 2008.
The coins, which belong to the Crown, go on display as the Colchester and Ipswich Museum Service tries to raise £300,000 to keep them in the region.
The hoard is now in London at the British Museum but 200 of the coins will be on show at Ipswich Museum from Tuesday until 10 June.
The Colchester and Ipswich Museum Service has made a fast-track bid to the Heritage Lottery Fund as part of its fundraising effort.