Suffolk libraries could remain open under new proposals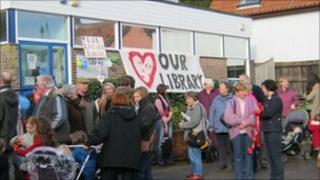 Twenty-nine libraries threatened with closure could remain open, Suffolk County Council has announced.
The Conservative-run council had said the libraries would close unless community groups or businesses came forward to run them.
It is now looking to set up and fund a "community interest" company to run the libraries.
Suffolk County Council voted to cut £42.5m from this year's budget after a drop in government funding.
A number of protests against the possible closures were held around the county.
Conservative councillor Judy Terry said: "The intensity of feeling has, if you like, forced our hand to try and find a partnership way of working.
"A community interest company would seem to be the best way forward because that is a true partnership with the council."
Ms Terry said the board, which would include members of the public, councillors and council officers, would decide how to spend the money allocated by the council.
Councillor Kathy Pollard, leader of the Liberal Democrat and Independent Group, said: "I'm still worried about branch libraries and how this community interest company is going to work.
"I'm worried that it's just divestment mark II, rather than a u-turn which would save all our libraries."
Labour councillor Mike Deacon welcomed the news, but said he wanted to see full details of the proposals before 'celebrating'.
"What will having our library run by a community interest company mean in practice?" he said.
"Will the jobs of our excellent and committed staff be secure? Will the company be making profits at our expense?"
The proposal will go before the county council's cabinet in July.