New Wolsey Theatre's Pulse Fringe Festival 2011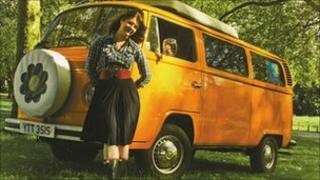 Ipswich's New Wolsey Theatre says funding is secure for its alternative theatre fortnight.
The Pulse Fringe Festival runs from 26 May until 11 June in eight venues showcasing new productions.
The New Wolsey was recently successful in getting Arts Council funding approved until 2015.
Sarah Holmes, New Wolsey chief executive, said: "You have to be nurturing the next generations of theatre-makers."
The Pulse Fringe Festival has been running for over a decade and it focuses on works-in-progress and new plays.
Venues include the main theatre and New Wolsey Studio as well as events in a camper van, a silver Airstream caravan, the Tower Ramparts Shopping Centre and on the street at the Giles Circus.
'On the edge'
Emma Bettridge, festival director, said: "The nature of fringe is that it's trying to be on the edge of what is considered the norm of theatre.
"Just come and take a risk and have a bit of fun for a relatively little amount of money."
Ticket prices are generally £5 for works-in-progress - which often have post-performance discussions with the audience - and £8 for finished productions.
In March, the Arts Council confirmed it would provide a grant of £2.5m to the New Wolsey for the three years until 2015.
The theatre, which has an annual turnover of £2m, also gets public funding from Suffolk County Council (£177,000 for 2011-12) and Ipswich Borough Council (£92,000 for 2011-12).
Pulse gets a separate grant of £40,000 a year from the Arts Council.
Mentoring talent
The festival includes work from 12 companies which are part of the Arts Council's Escalator project which aims to mentor talent and help them perform at the Edinburgh Fringe.
Ms Holmes said: "We always have very high targets, but choosing the work [at Pulse] is not about working out how much money it's going to make.
"It's about where those various artists are in their development."
She said Pulse was the sort of thing the Arts Council is looking for when it considers grant applications.
"It's critical - we are about presenting work and developing people's creativity whether they be participants from the community, youth or professional artists."