Southwold pier beach regains Blue Flag award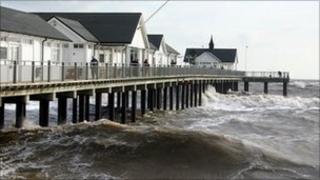 A beach in Suffolk has regained an award for its water quality, safety and cleanliness.
Southwold pier beach lost its Blue Flag two years ago, but is now one of three beaches in the county to get the award, administered by Keep Britain Tidy.
Lowestoft north and south beaches are also able to fly the flag.
However, Suffolk Coastal District Council decided not to apply for Blue Flag status for Felixstowe, blaming the cost and increasing bureaucracy.
Councillor Andy Smith, deputy leader of the council, said: "Keep Britain Tidy started to add all sorts of layers of bureaucracy.
"They wanted new signs with their logo on. They wanted us to put in an emergency telephone when there's already one at the leisure centre and everyone has a mobile phone these days.
"It would give us about £15,000 for what is essentially administration."
He added that water quality at Felixstowe was tested every week in the summer and the results were on the Environment Agency website and they were of "consistently top standard".
Helen Bingham, spokeswoman for Keep Britain Tidy, said: "It costs £660 to apply for the award which we think is excellent value.
"The main reason local authorities and beach managers don't apply is because they won't meet the water quality guidelines because they are so strict."