First Click Friends: Suffolk woman's social networking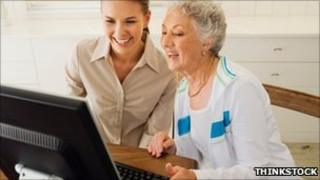 BBC presenters are backing a drive to get the nine million people in the UK, who do not use the internet, online.
First Click Friends is the latest part of the BBC First Click campaign which began in October 2010.
This part of the campaign aims to get people to help their relatives, friends and neighbours when using computers.
Countryfile and A Rough Guide To... presenter Julia Bradbury said: "Being online is absolutely vital to me.
"It allows me to stay in touch with my family, my friends, my loved ones, even my work colleagues while I am travelling."
Wildlife presenter Bill Oddie and former royal correspondent Jennie Bond are also involved in First Click Friends.
When the BBC's First Click drive began, Jacqui Howells, 55, of Sudbury signed up to the social network website Facebook.
"I registered, which I found quite easy, and it was amazing how much I learnt about friends and what they were doing and photographs," she said.
"I'm not on it every minute of the day like some people I know, but one thing it is great for is reminders about birthdays."
Endless information
Seven months later, she told BBC Suffolk's James Hazell programme: "It's so much easier than writing a letter for keeping in contact with people and sending photographs is instant.
"If you haven't got a computer at all, I would definitely recommend that you try and use the ones at the library which are free and go on an hour-long course just to get yourself going.
"You can pick up a cheap computer second-hand and, once you've got it, the world is so small and the amount of information you can get is endless."