Midnight walk round Ipswich raises hospice cash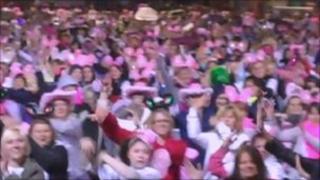 Almost 2,000 women have taken part in a midnight charity walk round Ipswich to raise money for St Elizabeth Hospice.
Around £200,000 was raised by the women who walked eight miles through the town centre.
It started at Ipswich Town Football Club in Portman Road with a warm up on the practice pitch.
The money raised will provide free specialist services for people living with a progressive illness. Many women took part in memory of a loved one.
The Hospice costs £6.6m a year to run and relies almost totally on charity.
Hospice chief executive Jane Petit said: "It was a tremendous night.
"The money raised will make a real difference to our patients, their families and carers and I thank everyone who took part."
Julie Slinn, from Ipswich, walked in memory of her father and father-in-law.
She said: "It was great to see so many people taking part and it was a fantastic night."