Delhi Brotherhood's link to Framlingham church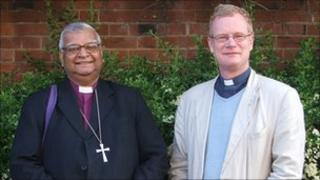 After almost 130 years the link between a small Suffolk market town and one of India's biggest cities is still going strong.
In 1887, Edward Bickerseth set out from Cambridge and travelled to Delhi and founded the Delhi Brotherhood with the aim of promoting higher education.
He returned to England to become rector in Framlingham, bringing with him tales of deprivation and need which the Suffolk community has supported ever since.
The Delhi Brotherhood is a men's community which supports a range of educational and health care projects targeting the most vulnerable in society such as schools, hostels and night shelters.
The Right Reverend Collin Theodore, the retired Bishop of Rajasthan, said: "We help people realise their potential and regain dignity through the programmes.
"For example through education we support the children of prostitutes who would otherwise have no opportunity to mix with society.
"We have a connection to those who are deprived and have no resources, to those who have no other opportunities."
Missions
The Framlingham congregation sends money and offers support to the Delhi Brotherhood and has sent people on missions to the community.
The Reverend Michael Womack, assistant curate at St Michael's Church in Framlingham, said: "It's not just about Framlingham sending money - it does us good too.
"Any community can get in on itself and focus on its own problems too much.
"Links with a big Indian city makes us much more aware of what's going on elsewhere and draws us out of ourselves."
In India and Framlingham there is a pride in what has been achieved through a century-long link, and a commitment to continue the work of the Delhi Brotherhood.