Low rainfall threatening harvest in eastern counties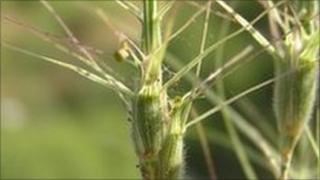 Record low rainfall across the eastern counties is making life very difficult for farmers, weather experts have said.
A Cambridgeshire weather station saw total rainfall of just 0.8mm in April. The average is 41mm.
The low rainfall is now threatening the autumn harvest and livestock feed, the NFU said.
Winter barley crops grown in Norfolk, Suffolk, Cambridgeshire, Essex and Hertfordshire are already showing signs of wilting, some farmers are reporting.
If the dry weather continues agricultural production across much of southern and eastern England will be reduced and straw will be in short supply, the NFU said.
"The NFU recognises that some damage has already been done - and appreciates the difficulties this might cause the arable sector later in the year, particularly in those regions that have been driest," a spokesman said.
Weatherquest at the University of East Anglia said crop growth is at a critical point but there are no signs that the prolonged dry spell is going to end soon.
"For about two months a large area of high pressure has been fixed over the Azores, south west of the British Isles, blocking the usual weather patterns," Joe Osborne from Weatherquest said.
"It is normally mild and wet but the usual fronts and low pressure systems from the Atlantic that bring rain to the eastern counties are not getting here.
"Scotland and the north west are having a reasonable Spring but because we are in the driest part of the British Isles none of the rain is reaching us."
'No rain at all'
Farmers are now in the main growing season when they rely on rainfall to benefit cereals like wheat and root crops like potatoes and sugar beet.
Mr Osborne said: "The weather station at Marham in west Norfolk recorded 7.5mm of rain in March when the average is 50mm. That is only 15% of normal rainfall.
"In April this fell to 5mm against an average of 47mm - a fall to 11% - and so far in May there has been 3.4mm of rain.
"That's a total since 1 March of 15.9mm which is what would fall in a summer thunder storm."
Essex has recorded the lowest rainfall since 1 March at 14.7mm and the wettest is Wattisham in Suffolk at 23.7mm.
Monkswood near Cambridge saw 0.8mm of rain in April which Mr Osborne described as no rainfall at all.
Northamptonshire in April received 1.2mm of rain.