Dodgy and Bluetones singer Mark Morriss at LeeStock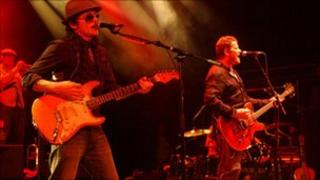 Dodgy and Mark Morriss from The Bluetones will be appearing at the fourth LeeStock music festival at the White Horse in Sudbury on 28-29 May.
The festival pays tribute to local musician Lee Dunford, who died in 2006 following a battle with Hodgkin's lymphoma disease.
Local bands This Boy Wonders and Lemon Party are also on the bill.
Proceeds will go to the Willow Foundation, which paid for Lee and his band to record at a studio in London.
Festival organiser Ed Keogh said: "The Willow Foundation provide special days for seriously ill young adults between the ages of 16 and 40.
"They paid for Lee to go to London with his band and record a track.
"We put that on all the event CDs. Lee was so into music that we felt it would be something that he would really remember and be pleased of."
Big acts
Now in its fourth year, LeeStock has continued to grow in size and is proud to be hosting Dodgy and Mark Morriss.
"When Ed mentioned the possibility that these bands would be performing I thought 'Nah, not at our little festival'," said fellow organiser Pete Keogh.
"The headliners have really helped create a buzz about the festival," added Ed.
Ed e-mailed a hearfelt request to Dodgy, who were happy to join the bill.
"The Willow Foundation gives people in a very dire situation a bit of hope and a nice day out," said drummer Matt Priest.
"It feels so simple, but it means the world. It's a day where they can forget all their troubles.
"It's what life is made up of really, isn't it? Just those little moments that mean a lot."
As for LeeStock, he says the band will play a mixture of new songs and old favourites. "The new stuff is a bit deeper, it's the best stuff we've done.
"I'm aware that a lot of journalists are going to write it off before they've heard it because we were popular in the nineties, so if we can overcome that hurdle.
"If we can just get people to listen to it, they're going to love it, I know they are."
Battling bands
The organisers also hold a battle of the bands at Sudbury Upper School - with the opening slot on Sunday offered as a prize.
"It's great seeing all the talent and telling them about Lee and the Willow Foundation," said Ed. "Hopefully they'll be future punters of LeeStock."
The festival is also supported by Lee's friends. "It becomes almost like a school reunion, and now that it's growing, we're getting new people as well," said Ed.
As well as music, there will be a few surprises for punters, according to Pete: "We'll have fire dancers when it gets dark, and confetti cannons.
"We've been holding the festival at this venue for the past two years - before that we were at a slightly smaller venue, but as the numbers have grown we've had to look at different locations.
"It's looking like we're going to max out this venue this year which is amazing."