Bishop of St Edmundsbury honours volunteers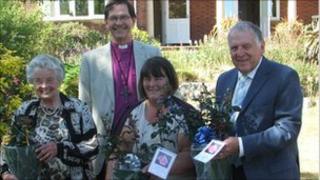 Three of Suffolk's unsung heroes have been honoured for their dedication to church life by having tea with the bishop at his house.
Volunteers Beryl Waters, Mary Carter and Mike Arbon were praised by the Right Reverend Nigel Stock, Bishop of St Edmundsbury and Ipswich.
"We are highly dependent, we are a voluntary organisation," he said.
"It's about an expression of faith, which for so many is about serving others and caring about other people."
The tea with the bishop was part of Volunteers' Week and the trio received the invitations after being nominated by others in their churches.
Organ-iser....
Ninety-year-old Beryl Waters recently retired as churchwarden at Rickinghall.
"In my teens I was a Sunday school teacher, that's where it all started," she said.
She has also been organist at Rickinghall and plays for the two Redgrave churches, Botesdale Chapel of Ease and Hinderclay.
"I've always been an organist, I'm self taught. I've been playing here for 50 to 60 years."
Lay reader Mary Carter is a retired teacher from Flowton. Her many roles include fundraising and flower arranging.
"You just get on with it, I enjoy doing it," she said.
"I was brought up in a family where everybody volunteered for things.
"We're lucky in our village, if you go and talk to people they say 'yes, I'll come and do whatever it is that needs doing', but we do need to fundraise every year to pay our way and keep the church beautiful."
Money matters
Mike Arbon has been involved in raising over £1m for restoration projects for St Peter and St Mary's in Stowmarket since the 1970s.
"It's a whole group of people who help and support me, it's a team effort," he said.
"We set up a restoration committee in Stowmarket in 1983.
"We tackled a variety of projects, it was the East window, and of course everything you start becomes more expensive. A £30,000 project becomes a £60,000 project.
"Then we went on to the tower and spire!"
Mr Arbon also plays the organ and leads the ecumenical Stowmarket Combined Churches Choir and this summer he will be hosting a couple from the churches' link diocese in Kagera, Tanzania.
Volunteers' Week began in 1984 and is now run by Volunteering England, an independent charity that brings people and ideas together in a range of fields including health and social care, education, the arts, sport, and local community projects.