Alton Water prepared for 3000 Great East Swim entrants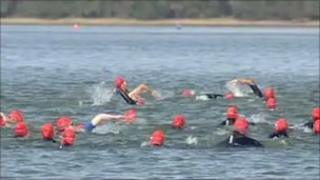 Around 3,000 swimmers are expected at Alton Water near Ipswich for the Great East Swim this Saturday.
It's the third year the event has taken place on Shotley Peninsula.
A BBC East team is raising money for a breast cancer charity and promoting the BBC's Big Splash mass participation campaign.
Professional open-air swimming races are also taking place, featuring Thomas Lurz, of Germany, who has won the men's world title nine times.
Andy Mitchelmore, event organiser, said: "The water is about 16C (61F). Wet suits are compulsory though, so it should be fairly pleasant for the swimmers.
"The forecast for Saturday is for sunshine and showers, but light breezes so it shouldn't be anything like the windy conditions we had last year."
The event is one of five annual Great Swims - the others are in Salford, Windermere in the Lake District, London and Glasgow.
Open-air swimming is an Olympic event for London 2012 and the Alton Water event will feature Britain's Cassie Patten, who won bronze in the 10K swimming event at the Beijing Olympics in 2008.
The BBC is entering a fundraising team of four - Look East reporter Debbie Tubby, Look East cameraman John Fairhall, weather presenter Alex Dolan and Radio Norfolk reporter Andrew Turner.
In the run-up to London 2012, the Big Splash campaign is aiming to get the national healthier, fitter and more active as part of the Olympics legacy.
Mr Mitchelmore said: "We've certainly found that with our swimming events, and our Great Run events, that if people have something to aim for, it leads to a more healthy lifestyle.
"We've been overcome by the amount of interest in this year's Great Swim series with 25,000 folk across the five races, so it's certainly something that's grabbed the imagination."