Music on the Green could end due to cost of policing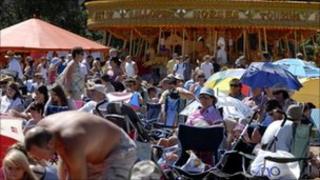 Organisers of a long-running festival in Suffolk say it could come to an end as they are now having to pay for policing of the event.
Music on the Green at Martlesham Heath has free admission and money is collected for charity.
Organiser Paul Firman says, for the first time, Suffolk Constabulary is charging between £1,200 and £1,700 to police this year's event.
Police said they were only charging a fraction of what guidelines suggest.
"With all the cutbacks, we had heard there could have been charges coming our way, but as we were raising money for a charity we didn't think they'd apply to us," said Mr Firman.
The festival has been running since 2001 and this year's event is raising money for East Anglia's Children's Hospices (EACH).
'Budget cuts'
"The money we raise equates to over 160 meals for the children at EACH, or 15 music therapy sessions.
"It's a free event, a community event and there's no way we can collect money at the gate because it's a public area.
"This is the end. We either pay up or they (the police) don't turn up, and if they don't turn up we can't run the event," he said.
Insp Steve Gallant said Suffolk Police was following national guidelines.
"We're having to charge them something but we are able to offer them a 75% abatement of the cost of police attending the event.
"Organisers expect to pay for the necessary licences from the local authority, they expect to pay for first aid cover, security and door supervision and I'm afraid they're going to have to pay a small contribution to the cost of policing.
"Times are hard. Public service budgets are being cut back.
"We recognise the importance of community and charity events such as this but we've got to be realistic about what services we can provide."