Ipswich artists begin creating the Never Ending Mural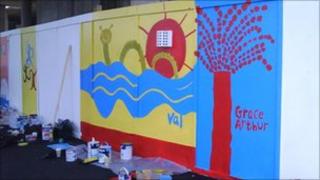 Work is under way on a mile-long mural on the Ipswich Waterfront.
Titled the Never Ending Mural, the artwork is based on drawings by young people in the county and has been curated by Ipswich Art School.
Two other murals are to be created on the Civic Drive underpass and the Crown Street car park, as part of the project.
Curator John Edwards said: "I'm excited that the people of Ipswich, the council and businesses have this creativity."
Mr Edwards, an artist himself, added that 20 young people have begun painting the mural and said more are welcome.
'Removing boundaries'
"It's the start of a huge community arts project," he said.
"It's really removing boundaries and making it possible for people to get involved with things instantly rather than just dreaming about it."
Lynn Turner, owner of a jewellery shop on the waterfront, believes the project will help bring other businesses to the area.
"This is definitely going to be the talking point and encourage people to come down here and have a look at what's going on," she said.
"Until the businesses start coming back here and investing we have to do something because if not it will just look tatty. This is a fun way of making it look good."