Suffolk Historic Churches Trust tour with Clive Paine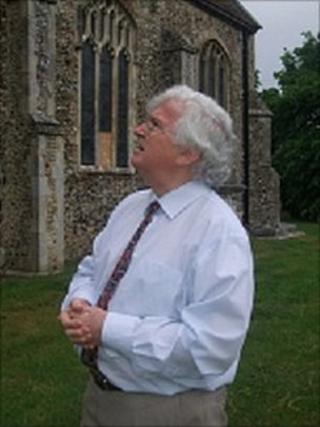 Local historian Clive Paine is on a 'Let Loose' tour of Suffolk parish churches teaching visitors the detective skills to uncover the past.
Mr Paine, who works at the Suffolk Record Office, is raising funds for the Suffolk Historic Churches Trust (SHCT).
The talks are in Burgate (17 June) and Stutton (24 June).
"My approach is very light-hearted and what we try to do is reveal the way that the church is built and then look at the furnishings," said Mr Paine.
The nights aim to teach people how to spot long-lost windows and doors they had never noticed, and how to read the clues in historic buildings that reveal their past.
Entry is £6 and the nights raise around £300 at each church with profits divided between the parish and the SHCT.
'Pedalling like mad'
Mr Paine added: "If people are regular worshippers, they may look around during the sermon, but they're not there to do a historical analysis.
"It's a fun time. I go in pedalling like mad, like on the SHCT bike ride, and I do all the work while they sit on the back of the tandem and relax as I'm revealing the history of their church to them."