On Landguard Point: East Anglia's Cultural Olympiad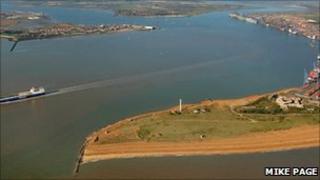 A £500,000 art project, which ties in with the London Olympics, is seeking people's stories of home from across East Anglia.
The multi-media On Landguard Point idea includes a People's Encyclopaedia for the stories to go in.
Artist Robert Pacitti said: "The whole project is set up to be participatory."
Other events include a concert by Michael Nyman and archaeological digs aided by Cambridge University's Carenza Lewis, who used to be in Time Team.
The multi-media series of events is part of the Cultural Olympiad which aims "to give everyone in the UK a chance to be part of London 2012".
The East Anglian project, which is named after the spit of land at Felixstowe, covers Norfolk, Suffolk, Essex, Cambridgeshire, Bedfordshire and Hertfordshire.
Memory games
It will also lead to the creation of a film and giant public feasts inspired by a project cookbook.
Mr Pacitti, 43, said: "We want you to tell us what you think of as home.
"What does it mean? What does it mean to live here, now? What are our memories of home? What can we share?
"I grew up in Ipswich and used to get taken to the American air bases, so I'd probably write some of my memories about that."
Memories can be submitted using postcards at the various live events or via the On Landguard Point website.
There will be 205 entries for the encyclopaedia - signifying the number of countries taking part in the Olympics.
Prehistoric seas
Another part of the project involves lining the East Anglian coast with 205 flags.
People are also being asked to dig up a square metre of their gardens.
The Dig & Sow part of the project will register 205 sites.
Ms Lewis, director of Access Cambridge Archaeology, said: "I grew up [near Bungay] looking for fossils of the animals that lived in the prehistoric seas of East Anglia.
"We'll have archaeologists on-call if people ring up and say 'Help, I've got a Sutton Hoo ship burial, what should I do next?'
"It's amazing what turns up because, before about 50 years ago, rubbish wasn't taken away, it was just put out the back."
Fired-up
On Landguard Point is one of 12 Artists Taking The Lead projects funded by the Arts Council for the Cultural Olympiad.
Helen Lax, its Eastern regional director, said: "We're hoping there will be a legacy after the Olympics that people have got involved, participated, volunteered or seen really great art.
"[Art and sport] are the two things that fire people up and there's a misconception that you either like sport or you like art - people like both.
"We're really good at the arts in this country, so the Cultural Olympiad is a chance to celebrate our cultural heritage with the rest of the world."
Michael Nyman's concert takes place at Felixstowe's Spa Pavilion on Friday, 23 September, 2011 and it features three sound commissions including the world premiere of a piece called On Landguard Point.