Ipswich trade unionists march through town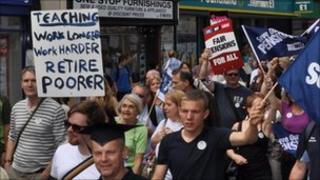 Around 300 teachers and public sector workers have held a march in Ipswich on a day of strike action.
They made their way through the town centre, starting and finishing at the Giles Grandma statue.
Karen Bendall, from Sidegate Primary, Ipswich, said: "Many of us have had children and have gone back to work.
"We don't have 'gold-plated' pensions and I think it's very important that we show the government we're not going to stand for this."
The four unions on strike action were the National Union of Teachers (NUT), Association of Teachers & Lecturers (ATL), University & College Union (UCU) and Public & Commercial Services Union (PCS).
Of the 356 county council schools in Suffolk, about 90 were closed for the day while 90 had reduced numbers of lessons.
'Emotionally draining'
Ms Bendall said raising the retirement age to 68 is not realistic: "Teaching is an emotionally draining profession, it's got harder and harder over the years."
Tom Wilmot, of Westbourne High, Ipswich, said the existing pension scheme was "affordable".
"The audit has been done and the government just needs to act on it and they're just not being honest with us," he said.
"We've all got mortgages and bills to pay and we'll have to see if this day has any impact on the government's approach."
The NASUWT teachers' union is not taking part in the day of strike action.
Jenny Turner, an ATL member at Stowmarket High, which remained partly open, said: "I think more people are backing it, but not necessarily everybody is on strike.
'People working hard'
"Yes, it is a little bit disappointing that not quite so many people have come out as we might have expected, but we are still encouraged that the support that is there is strong and loyal."
Fari Taherinia, who works for the National Offender Management Service in Ipswich, said: "The government is saying they can't afford it and the public sector pension is much higher than the private sector, which is not entirely true.
"They talk about tackling the deficit by tackling our pensions which is totally wrong because we haven't been responsible for those deficits - the bankers were.
"They're attacking people who are working hard for a very straightforward, basic pension."