Suffolk beauty spot's 'cluttered' power cable view goes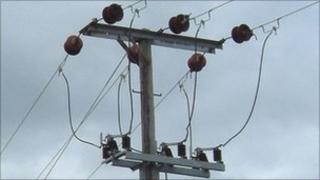 A power line in an Area of Outstanding Natural Beauty in Suffolk is to go underground in a £342,000 scheme.
UK Power Networks (UKPN) is burying electricity cables between Chillesford and Butley, an area popular with bird watchers, cyclists and ramblers.
The work is due to be completed by September and the scheme is funded by electricity industry regulator Ofgem.
"Removing the power lines will provide an uncluttered landscape," Shaun Barrell, from UKPN, said.
"[It will afford] open views that will be enjoyed by visitors and residents alike."