Suffolk Historic Churches Bike Ride reaches 30th year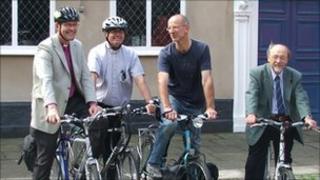 A charity bike ride, which visits Suffolk's churches, has reached its 30th year.
The Suffolk Historic Churches Bike Ride raises money for the trust which carries out repairs to buildings.
Patrick Grieve, bike ride chairman, said: "The funds are a vital lifeline for the upkeep of so many places of worship of all denominations."
This year's event takes place on Saturday, 10 September and involves up to 600 churches.
About 3,000 people took part in last year's event and a total of £162,000 was raised.
Participants usually sign-up with their local church and split their sponsorship between it and the Suffolk Historic Churches Trust, or just give all the money to the trust if they do not go to church.
Tourist attractions
Mr Grieve said Suffolk's churches are amongst the finest in the country: "Some of them are almost cathedrals - Blythburgh, Dennington, Stoke-by-Nayland - these are staggering buildings.
"These communities have often dwindled to nothing, but it's up to us to make sure these amazing monuments remain for those who come after.
"A lot of people support the churches because they are part of the Suffolk landscape and are tourist attractions when tourism is one of the major industries in the county."
The 2011 ride was launched by the head of the Anglican church in Suffolk.
The Right Reverand Nigel Stock, Bishop of St Edmundsbury & Ipswich, said: "I've managed it each year I've been here, apart from one when someone got me involved in a wedding."
The ride has teamed up with a local bike hire firm The Bicycle Doctor who also offers tandems.
The event is also for ramblers as well as cyclists.
Reverand Clifford Reed, Minister at Ipswich's Unitarian Meeting House, said: "I've done the walk occasionally, but I'm more often down here signing people in and showing them around.
"It's a good opportunity to get around and have a look in these places and we usually get around 200 people looking around.
"In the centre of Ipswich it's probably best to walk."