Felixstowe's seafront gardens get £2m of lottery money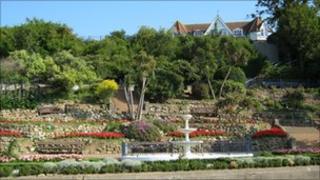 Felixstowe's seafront gardens have been given £2.2m of National Lottery cash.
The cliffs were landscaped a hundred years ago when the town was developed as an upmarket resort.
The money will be used to improve access for wheelchairs, restore shelters and ponds and recreate historic planting designs.
"It just shows how much confidence people have in Felixstowe as a town and a resort," said Doreen Savage, Mayor of Felixstowe.
The money will be spent on the Cliff Gardens, the Spa Pavilion Gardens and the Town Hall Gardens.
The project also includes a heritage trail, furniture, shelters and an outdoor performance space.
'Important benefits'
Drew Bennellick, head of landscapes and parks at the Heritage Lottery Fund, said: "Once parks start looking run down, they go into this cycle of vandalism, decay and neglect.
"We know that if we spend serious money bringing these parks up to a brilliant standard, people enjoy them, participate more in looking after them and they can lift an entire area.
"Felixstowe demonstrated that people were involved in the project and it was going to deliver some really important, lasting benefits to the town."
A further £570,000 is coming from Suffolk Coastal District Council, the Haven Gateway Partnership, Felixstowe Town Council and volunteer sponsorship and donations.
Ms Savage, who is also a district councillor, said: "The flower beds are absolutely spectacular on the ground level, but when you get higher up in the cliffs there's a huge amount that needs doing.
"The next thing the council's Felixstowe Futures scheme needs to concentrate on is to look beyond the pier and down towards Manning's Amusement Arcade and see what we can do to upgrade that whole area."
It is expected that work will begin in September 2011 and be completed by the end of 2013.