E. coli found in water at Latitude Festival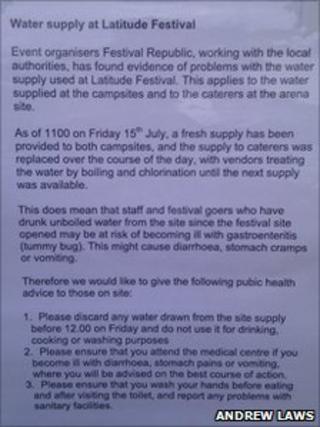 Part of the water supply at last weekend's Latitude Festival has tested positive for E. coli.
Waveney District Council says a routine test on Thursday night discovered problems with the quality of water supplied to festival-goers and traders.
Environmental health officers worked with organisers Festival Republic to advise festival-goers of the issue and source an alternative supply of water.
The council says no reported illnesses have been linked to the water supply.
The Health Protection Agency (HPA) said the strain of E. coli was different to the one which resulted in deaths in Germany and Sweden last month.
Dr Chris Williams, acting director of the Norfolk, Suffolk and Cambridgeshire Health Protection Unit, said the contaminated water could cause infectious gastroenteritis.
Phil Harris, communications manager at Waveney District Council, praised the co-operation with Suffolk Coastal District Council.
"Thanks to the prompt action taken round the clock by our two councils' environmental health officers and the festival organisers, to date, the number of people reporting to the medical centre with potential related problems is in line with the numbers anticipated at a festival without water contamination issues, with 40,000 people attending."
Environmental health officers worked with Festival Republic during the installation of the water supply.
Previous samples, the most recent taken the Monday before Latitude began, had been clean.
In a statement, Festival Republic said the lab results came from taps that were not a drinking water supply, but that it had been unable to prove beyond doubt that the water supply around the site was completely safe for drinking.
It said the water supply was immediately treated with a higher dose of chlorine to kill any bacteria, and that alternative water supplies were made available.
The Festival Republic statement added that traders were told to boil all water and sterilise their containers, and that festival-goers were told to discard water stored before midday last Friday and to report to the medical tent if they felt unwell.
Stool samples taken from people complaining of diarrhoea and vomiting showed they had not become ill as a result of water contamination, it said.