Great Blakenham waste incinerator plans approved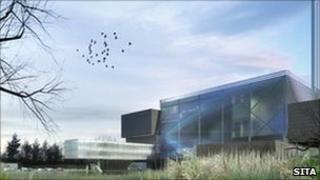 Plans to build a waste incinerator in Great Blakenham have been approved by Suffolk County Council.
Private company Sita will begin work later this year and hopes to open the £185m plant by the end of 2014.
The company said the 269,000 tonnes of rubbish burned annually will generate electricity to power 30,000 homes.
But Shirley Fairburn, chair of Great Blakenham Parish Council, is concerned that nearby roads are not suitable for increased heavy goods traffic.
Great Blakenham is also the location for the planned £320m winter sports complex, SnOasis.
'Community benefit'
"Our main concern is that Great Blakenham, poor little village, is having everything put on its doorstep and it's the quantity of traffic," said Ms Fairburn.
"Our road network here is not sufficient and we are gridlocked regularly, twice a week now.
"We've been really strong on this point but the county council just say that our road network is perfectly suitable."
The plant will be built at the former council highways depot on Lodge Lane.
Jane Storey, deputy leader of the county council, said she was confident the incinerator was the best way to deal with waste.
"Over the 25-year life of the contract it will be £350m cheaper to have the energy from waste facility rather than putting the waste to landfill," she said.
"Probably the people in Great Blakenham are saying that they won't have a community benefit, but I believe they'll be able to apply for the jobs that are there - 250 jobs on site and a further 43 permanent jobs when it opens.
"There's also a Sita trust which they'll be able to apply for money for community projects. I think it's good news all round."