Demand for bariatric ambulances 'on the rise'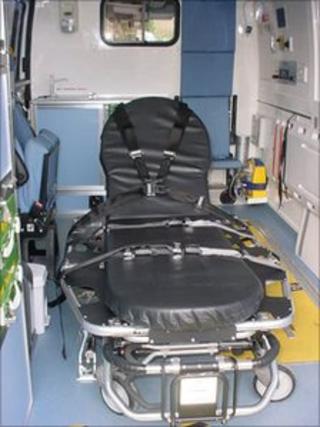 The number of obese patients requiring specialist ambulances is on the rise, according to St John Ambulance Suffolk.
The charity says the number of patients requiring its bariatric vehicles around the country has continued to increase over the past four years.
About 20 transfers a week are made in the vehicles, which can carry patients weighing up to 70st (444kg) and cost £70,000 each.
St John Ambulance Suffolk is increasing its fleet from four vehicles to six.
'No matter where'
Earlier this week a report published in the Postgraduate Medical Journal said the NHS was "ill-prepared to deal with obese patients".
Keith Hotchkiss, operations manager for St John Ambulance Suffolk, said: "There is a general rise in the number of calls for our service, not just in Suffolk but across the Eastern region."
St John Ambulance Suffolk has been running the bariatric transfer service since 2003 and is commissioned by NHS trusts around the country.
"We wouldn't look to spend £70,000 on a vehicle and equip it with vast amounts of expensive equipment if we didn't believe there was a need for this dignified service," said Mr Hotchkiss.
"We frequently take people to bariatric centres at Luton, we've been in the press for taking clients to specialist centres in Chichester - we offer this dignified service no matter where the location is."