Suffolk New College refugee could quit due to housing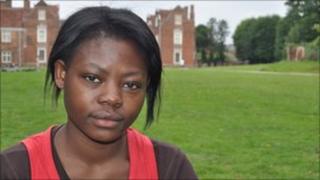 A refugee may have to give up her studies into health and social care because of housing issues.
Jeannine, 22, from the Democratic Republic of Congo, had to leave UK Border Agency housing after being granted "indefinite leave to remain".
She has been given a temporary room with a host from the Ipswich Town of Sanctuary voluntary organisation.
If she cannot find a new host she says she will have to give up her course at Suffolk New College.
Jeannine, who did not wish us to use her full name, is from Kinshasa, the capital of DR Congo, a country still beset by violence.
She said her parents were killed and that her own life was in danger.
'Live in fear'
A church in DR Congo brought her to Britain in 2005 and she lived in London until the UK Border Agency put her in accommodation in Ipswich in 2010.
However, when she was allowed to stay in the UK in June, she was given 28 days to leave the Border Agency accommodation.
Jeannine said: "That is a joy to have that granted, because sometimes you live in fear of what is going to happen.
"But I was really worried that I would become homeless and I've never been homeless in my whole life."
She was put in touch with the Ipswich Town of Sanctuary, a scheme which is based at St John's United Reformed Church that finds host families for asylum-seekers and refugees.
Melissa Day, co-ordinator of Ipswich Town of Sanctuary, said: "It's a really difficult situation for people that haven't had any opportunity to save up any money [for rent] because they're not allowed to work.
College course
"They are just given vouchers to spend in shops.
"Our idea is that a host would be there to provide three meals a day, but there would be no lending of money - it's just for the lending of a room."
Jeannine's current host placement is due to come to an end this week, so she needs a new host so that she can return to college in September for the final year of her course.
She cannot claim housing benefits as a full-time student, but she has got an eight hour a week cleaning job.
Refugee Council
Jeannine said she may have to move back to London because she could find somewhere to stay there, but that would mean giving up the college course.
Suffolk New College said it can only advise students to get further finance advice from the Job Centre or Citizens' Advice Bureau.
The UK Border Agency said once granted refugee status, people are entitled to seek work, apply for benefits and apply to councils for social housing.
The Refugee Council's Ipswich office has been dealing with Jeannine's case.
Tom Daly, regional development manager for the charity, said: "Because she's a single person, she's non-priority in terms of help with public housing.
"It's the voluntary sector that has to step in."
The Refugee Council argues that asylum-seekers should be given the right to work so they have some savings for when they are granted refugee status.
Mr Daly said: "Another thing would be for the government to reconsider cancelling the Refugee Integration and Employment Service (RIES), because at least then there is some sort of advice resource that is being funded that can jump in and try and make the connections for them.
"Something needs to be put in place."