Wrentham church alarm 'deterring thieves'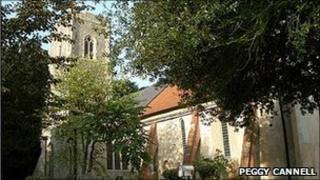 A Suffolk church says a new security system to prevent the theft of lead from its roof is working.
St Nicholas Church, Wrentham was left with a £38,000 repair bill after six tonnes of lead was stolen last year.
The church fitted a £3,500 security system with loud alarms and blue flashing laser beams in March.
Reverend Leonard Payne said it had worked so far: "This is serious organised crime and the object is to scare them away with so much noise."
British Transport Police is leading a national day of action against metal thefts on the railway network which also aims to highlight thefts at businesses, hospitals and churches.
The congregation at St Nicholas noticed water coming through their roof during the Remembrance Day service in November.
National heritage
It was discovered that six tons of lead had been stolen, leaving them with a £5,000 bill for a temporary fix of the leak and a further £33,000 repair bill.
Mr Payne said: "The lead gets put down meticulously, but it doesn't get ripped out meticulously.
"The insurance companies don't insure them up to their full value any more - you've only got a limit of about £5,000.
"People are waking up now and realising we do have to put security on our national heritage."
The vicar said there have not been any more attempted night-time thefts and the only time the alarm has gone off during the day-time is when builders had accidentally set it off.
So far, the church has raised £10,000 towards the cost of the roof repairs and it is seeking further donations.